A Problem with the Steca Controller
I have replaced the Steca controller with another brand after having two failures.
The failure is that the controller will run the pump all the time. Even when the display indicates that the pump is turned off, the controller continues to run the pump. I've tried all the usual remedies as in checking switch positions, cycling power, ... to no avail. I believe that the relay that turns the pump on has stuck on.
The first unit was replaced under warrantee, and the replacement worked for about another month or two and failed in exactly the same way. While they likely would have been willing to replace the unit again, I decided that I would just change to another brand.
This seems particularly strange in that the pump only draws 13 watts -- you would think that it would be very easy on the controller output circuit?
I've written a note to Steca, and they believe that the problem is that the DC pump is powered by a switching power supply. Its the switching power supply that is plugged into the Steca, with the pump then plugged into the switching power supply. The switching power supplies can apparently have very high startup current surges, and they believe that this is what caused the relay to stick with the contact closed. I am inclined to believe this explanation.
One potential cure for this if you want to use the same type of DC pump I use is to power it with a "linear" power supply. These power supplies (I'm told) do not have nearly as high a startup power surge, and should work OK. These linear supplies are widely available and not expensive -- Digikey and Jameco are two places that handle them.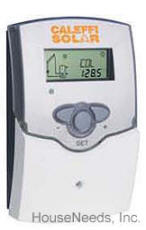 The new controller is a Caleffi. It is actually quite similar to the Steca with the added benefit that it displays cumulative pump hours. Its a bit more expensive. So far (2 months) it has worked well.
It hooks up in the same way as the Steca, and uses the same kind of temperature sensors.
I got mine here: http://www.houseneeds.com/Shop/solar/caleffi_isolar_main.asp
After hearing the Steca explanation, I am inclined to believe that the Caleffi controller may also be susceptible to power startup surges from the switching power supply, and if I were going to run the DC pump in the long term, I would change to a linear supply, but see the update just below.
Gary October 10, 2009
Update: April 23, 2010 -- I have changed the pump to a Grundfos AC pump as a part of expanding the system to do both water heating and space heating. This change does not in any way indicate a problem with the SwiftTech pump, which performed without a hitch for more than a year. I just needed somewhat more flow and startup head than the SwiftTech is rated for with the new larger and taller collector.