91 Award Winning Solar Homes
The 91 passive solar home plans provided below were the winners of a passive solar home design competition sponsored by HUD in 1982. It was the fifth and final cycle in a series of competitions sponsored by HUD, and the winners were selected from 550 entrants from solar builder/architects/designers.

This was a time of very high interest and activity in solar passive home design. The plans show a great deal of innovation, and a willingness to try new ideas and new layouts -- much more so than is usual in today's solar designs.

Each of the plans is a 2 to 5 page pdf file containing 2 or 3 drawings to give the concept, and a write-up describing the way in which solar heat is collected, stored and distributed. They are not detailed building plans, but are sufficient to describe the concepts behind each home well.
Note: I am in the process of scanning these plans in. I plan to make all of them available as time allows. I decided to go ahead and put up the first 30 62 now, since I'm not going to have time to do the rest for a while.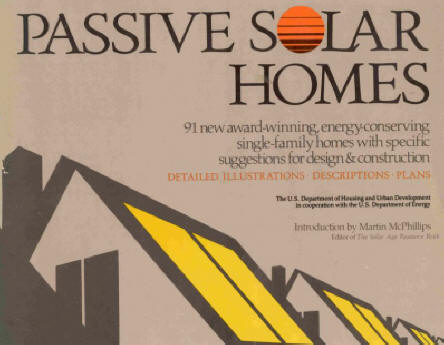 The Plans:
Note that every region covers a wide range of climates -- so look at all of them.
The things I like about these plans:
The plans cover a very wide range of climates


A wide variety of budgets and home sizes are included.


Many of the designs are quite innovative, but not to the point of being strange or silly.


Even though the book dates back to 1982, I think it should serve as a good source of "new" ideas


The same set of data is provided for each home, and includes some solar performance data.


It appears that almost all of these homes were actually built, as opposed to being a figment of someone's imagination.
Some cautions:
The plans date back to 1982, so they may include some elements that have been found not to work well. As an example, my personal prejudice is that the Trombe walls featured in several of the homes have poor efficiency, and that there is probably a better way -- others may disagree.


The insulation levels shown, while good for the 80's, do not seem so good now -- more insulation would typically be included in today's solar homes (which would improve performance).


It is tempting to compare the homes based on the Solar Fraction that is listed for each, and conclude that the homes with the highest solar fractions are the best designs. This would be wrong, since the solar fraction is a function of not only the design, but also the local climate -- its a lot easier to get a high solar fraction in Taos than in Buffalo.
It is tempting to look at plans for only your region, but you will find that each region covers homes for such a wide variety of climates, that it is worthwhile to look at all of the regions.
Gary 8/15/06