The Half Plan -- Cut Your Energy Use, Energy Cost, and CO2 Emissions in Half

We used the Half Plan to cut our total energy use, energy costs, and greenhouse gas emissions in half (and then some).


We cut our energy use for electricity, space heating, water heating, and transportation from 95,000 KWH per year to 36,000 KWH per -- this is saving us $4,800 per year in energy costs, and has reduced our CO2 emissions by 18 tons.

The links below show how we did this, and how you can develop a set of projects to do the same -- or more.

Our rate of return on the money we invested in this program is over 40% -- tax free.
This is the best of win-win deals -- cut your carbon footprint, and save a lot of money on energy bills.

The plan addresses use of electricity, space and water heating energy, and energy for transportation -- most of your total energy use.

We found the reductions easy to accomplish, and no significant lifestyle changes were needed.

The Top 8 Half Projects -- Cost $380 total, Save $900 and over 5 tons of CO2 per year!

Some other great energy conservation stories from people who have done similar programs.

Dave's Half Program -- a very good program inspired by our Half Program...

Share your own project ideas or energy saving stories -- contact Gary
Half Program Articles and Interviews
Mother Earth News
The February - March 2008 issue of Mother Earth News has an article on the Half plan that features the 8 most cost effective energy saving projects. These eight projects cost us $380 and save $910 a year plus more than 5 tons in greenhouse gas savings.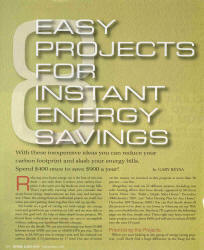 See the full article on the Mother Earth News website ...
Home Power Magazine
Home Power magazine carried a series of 3 articles on the Half Plan earlier this year.
The articles give good how-to detail on the projects we used and the costs and savings associated with each project.

You can download the three article series from Home Power Magazine for free from the links below
Thanks to Home Power from making these downloads available!
Half Plan: Part 1 (pdf)

Thermal Gain
What the Half Plan is about, and several projects that reduce heat loss.
Full how-to instructions and all of the energy savings, greenhouse gas savings, cost savings, and cost to build.
Part I projects:
Energy Saving 7900 KWH/year
GHG Reduction 3500 lbs CO2
Cost $1880
Cost Saving $662 per year
Half Plan: Part 2 (pdf)
Saving Electricity
More about the Half Plan, and the full how-to and details on several projects that result in large electricity savings.
The the greenhouse gas threat of coal fired power plants.
Part II projects:
Energy Saving 5035 KWH/year
GHG Reduction 10050 lbs CO2
Cost $1340
Cost Saving $503 per year
Half Plan: Part 3 (pdf)
Defeating Drafts and Improving Insulation
More about the Half Plan, and full how-to on these projects:
Details on infiltration sealing, attic insulation, crawl space insulation and sealing, sealing duct systems, and cheap window insulation.

The Half Plan at the Livingston Sustainability Fair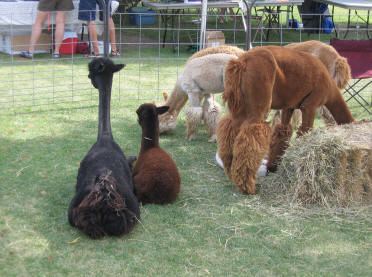 The Half Plan Talk (4 mb Power Point file)
Hand out for the Half Talk (small pdf)
A Half Interview on the Green Options Website

Maria Surma Manka from the Green Options Website Interviews me on Half ...
---
Other Helpful Resources for Cutting Your Energy Use
The Carbon Buster's Home Energy Handbook
A good new book describing a program very similar to our "Half" program.
The Carbon Buster's Home Energy Handbook,
Godo Stoyke, 2007

This is a brand new and good book on how to start your own energy saving program that will cut your energy use and green house gas emissions by as much as 70% -- and save you $17,000 over 5 years.
The author lists many potential projects in all areas of energy use, and provides cost, rate of return, energy saving and carbon saving for each. It is done very much like my Half program listed above -- highly recommended.
Available at the usual book places $13.

Our Total Energy use is down from 95,000 KWH per year
to 36,000 KWH/year

The chart shows total energy use before and after the cumulative effect of doing conservation, solar, and efficient transport projects.

$4,800 per year saving in energy costs.

The chart shows the cumulative savings in energy bills for the same set of conservation, solar, and transport projects.

18 tons per year CO2 emissions reduction.

The chart shows the cumulative savings in CO2 emissions for the same set of conservation, solar, and transport projects.
---
UseHalf -- Conservation Without Compromise
Another site that promotes the idea that we can cut our our residential and transportation energy use in half, and provides many convincing reasons why this is a good thing to do.
---
We have continued on the Half program through 2008, and completed a few more projects, including this very cost effective solar water heating system.
I have stopped entering new projects in this Half section because its quite a bit of work to update all the charts and tables each time a new project is completed, and the projects that are already listed get the picture across pretty well.
Rest assured that all of the projects listed in this Half section are still in use and still saving energy, money and CO2. In addition, the new projects completed in 2008 make our total savings somewhat better than is listed here.
Gary 08/01/06, 03/28/07, 4/27/07, Nov 13, 2007, May 23, 2008, January 5, 2009, July 2010