Passive Solar Home Temperature Monitoring
Mark and Phil go over designing and buiding a temperature monitoring system for Mark's North Georgia passive solar home.

This is a doubly interesting project in that 1) it has all the details on how to build a temperature monitoring system that can log dozens of temperatures and 2) it is providing actual temperature records for numerous locations within a well designed passive solar home.

Thanks very much to Mark and Phil for providing this material!
Highlights
The passive solar house uses uses south facing glazing to collect solar radiation during the daytime. The first floor is a suspended concrete slab over a full basement -- the slab provides the thermal mass that collects heat during the day and then gives the heat back during the evening to keep the house from overheating during the day and going cool too rapidly at night.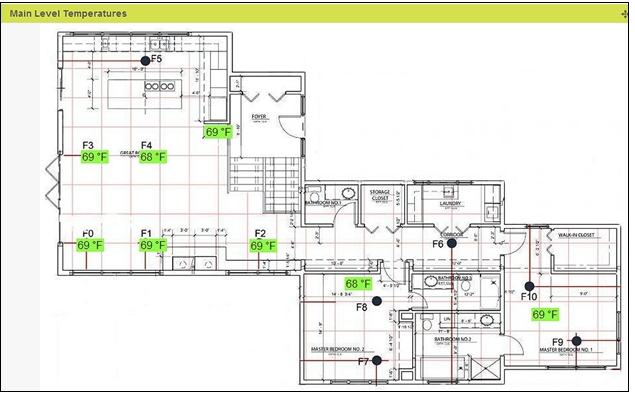 Temperature sensor locations for the main floor.
In order to see how well the house does in temperature control, Mark and Phil developed a very nice temperature logging system based on the Dallas Semiconductor 1-Wire temperature sensors. This system allows easy monitoring of a large number of temperature sensors distributed along a 1-Wire bus. In this system, an Arduino microprocessor collects the temperatures from the 1-Wire sensors and a small dedicated PC controls the system and logs the temperature data. Full details are provided for the system -- it will be of interest to anyone wanting to collect data over time from a number of sensors.
Their system includes multiple temperature sensors in the living space, at the ceiling level and within the concrete slab, so it should get a full picture of what's going on and why.
| | |
| --- | --- |
| Slab provides thermal mass to store heat. | Mounting of temperature sensor within slab concrete. |
Mark has just started to collect temperature data for the house -- this is a plot for a few days in March 2015. He will continue to log temperatures for the house and provide these on his website -- www.neoterra.us. It will be very interesting to see how the house performs through the seasons.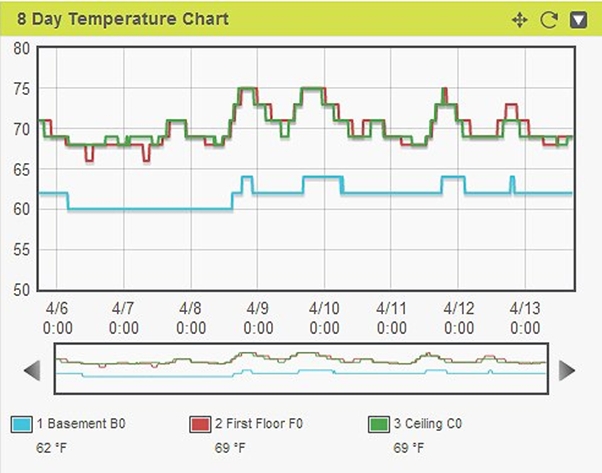 And, for more information on designing and building this solar home and the monitoring systems see Mark's website: www.neoterra.us/
Comments and Questions
blog comments powered by