Maximizing Solar Daylighting -- Schoolhouse Energy Retrofit
These pictures show some of the strategies used to bring more lighting into the north half of the house while still minimizing north glazing.
Click on thumbnails to view full size pictures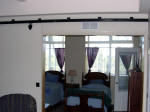 Sliding wall panel allows sunlight from south glazing to penetrate deeper into house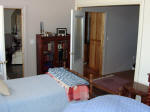 Another view of the sliding wall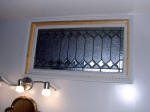 Inner wall window lights the main bath.
Leaded glass salvaged from window replacement at their previous home.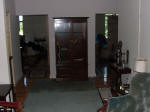 Oversized doorways allow for more light penetration
Gary August 6, 2009