New Solarium-Mudroom -- Schoolhouse Energy Retrofit
Some views of the new Solarium-Mudroom.
The new solarium adds additional south facing glazing for house heating, and also provides additional, sunny living space.
Click on thumbnails to view full size pictures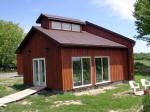 Completed new solarium-mudroom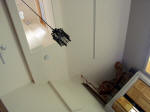 Ceiling harvests solar heated air. Note bulkhead for hot air duct on end wall.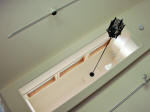 'Doghouse' concentrates and 'super-heats' solar heated air. Note thermostat and inlet grill.

Dual sliding doors for solarium

Firewood rack in mudroom
Gary August 6, 2009