Schoolhouse Retrofit -- Foundation Work
Pictures of the work done around the slab to decrease heat loss. The original slab did not include any insulation at all.
Click on thumbnails to see full size picture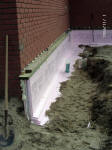 6 inches of XPS foamr board to reduce slab heat losses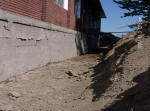 Trenching around periphery for new foundation drains.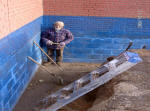 Damp proofing.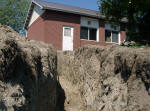 Foundation drains and downspout drains from roof gutters separately drain to 'daylight'.
Gary August 6, 2009