This project started when I was able to find 4- 4 ft X 6 ft tempered glass panels at our local waste transfer station. I had these panels stored at my house for a few months knowing that sooner or later I would be able to incorporate them into a solar panel of some sort. Having already built and installed a 64 sq ft hot air panel and a 64 sq ft hot water system on my own house and a hot air panel on an ice fishing shack I was fairly knowledgeable in what was required and the amazing amount of heat in all temperature conditions that such devices were capable of. On a casual visit to my friend Dave's house it occurred to me that his location was ideally suited for a solar hot water project.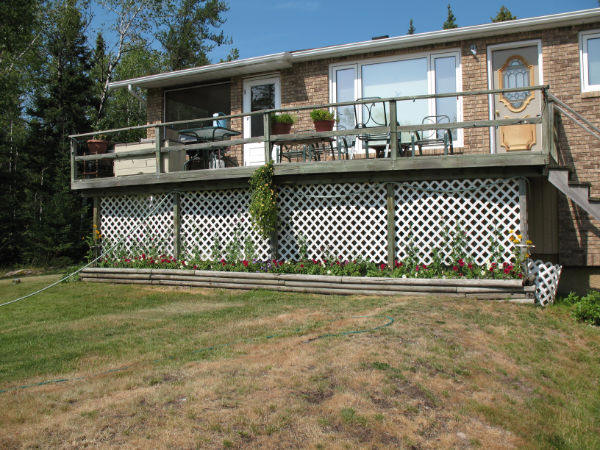 The next step was to convince Dave and most importantly his wife Bonnie that because
1) he heats his house with fuel oil and could save probably $500/year on a $2000 investment
2) I was willing to build the panel with him with no charge for my labor.
3) We could make it attractive fitting in nicely with his existing deck.
Once I showed Dave how my own system worked and with a picture of his house and using Microsoft Paint to show him what the completed project would look like I got the OK to start the build.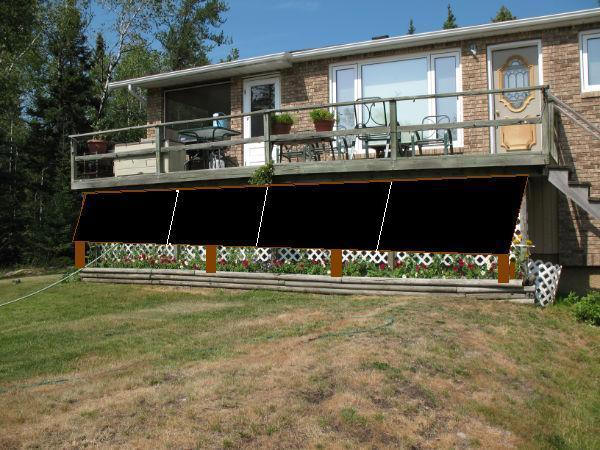 Throughout last winter I acquired 4 - 45 gallon plastic barrels from a local car wash as well as 4 smaller (I am guessing 20 gallon plastic barrels) that my friend at the car wash has his soap delivered in and gave them to me for free. A local grocery store chain happened to be doing a major renovation around this same time so I was able to get 5- 4X8 metal faced 3" thick foam insulation boards from the freezers they were replacing. Once again at my favorite price (free).
Heat Storage Vault
Closer to spring we started the build in earnest by building the heat storage Vault. Another friend of mine Brian suggested that we use the smaller barrels to form the Heat Exchangers and then place these smaller barrels inside the 45 gallon drums.
We purchased 300 ft of 5/8" pex and got to work. The idea of the barrel in a barrel worked very well and allowed us to complete the heat storage system fairly easily.
Absorber Plates
Originally the plan was to simply buy off the shelf heat spreader plates . When checking the price and quality of these plates I thought that with a little work we could build better plates for a cheaper price. The commercial plates were only about .012" thick and would cost over $3 per 2 ft plate or $300 for 100 sq ft. I ended up buying 100 sq ft of .024" black aluminum flashing for $180 that I had cut into 6 inch widths. I considered forming the plates using the proven method of a forming jig, a 5/8" steel rod and a sludge hammer but decided to try rolling over a hinged form using the weight of a 1/2 ton truck to drive the 5/8" rod into the plate and into the slot in the plywood. The first try using my Toyota Tacoma had limited success but once we switched to a heavier Ford F 150 we were in business. It took very little time (maybe 1 hour) to form the 100- 2 ft absorption plates. It did take about 2 or 3 passes of the truck tire to press each plate and we completed the job with a few whacks with a sludge hammer just to make sure the grooves were very well formed.
Panel Construction
The panel construction was fairly standard using treated lumber throughout and making use of the rigidity of the foam insulation panels to form the back of the panel as well as the surface for attaching the absorption plates to. We also made use of the existing deck posts for the back legs of the panel.
| | | |
| --- | --- | --- |
| Bob at work.Bob at work. | Dave at work. | Framing ready for insulation. |
| | | |
| --- | --- | --- |
| Salvaged insulation for collector. | Insulation board cut to fit. | Back insulation complete. |
In order to reduce the number of solder joints and T's we started exploring the possibility of running the 1/2" copper tubing horizontally with 3/4" manifolds on each end instead of the standard vertical configuration with the manifolds on the top and bottom. Gary Reysa was kind enough to run a trial for us using this "Hizer" design and the results were promising with temperatures rising in all the tubes from the feed to the discharge side indicating that there were no areas of stagnation or uneven flow. I also designed the pipe run so that the feed and discharge from the panel would be at the same end to minimize the piping run from the panel to the house.
Installing Plates
Once the soldering was complete we installed the absorption plates using a thin bead of silicone in the groove and sheet metal screws to pull the plates around the 1/2" copper pipe and into intimate contact with the facing on the foam insulation boards.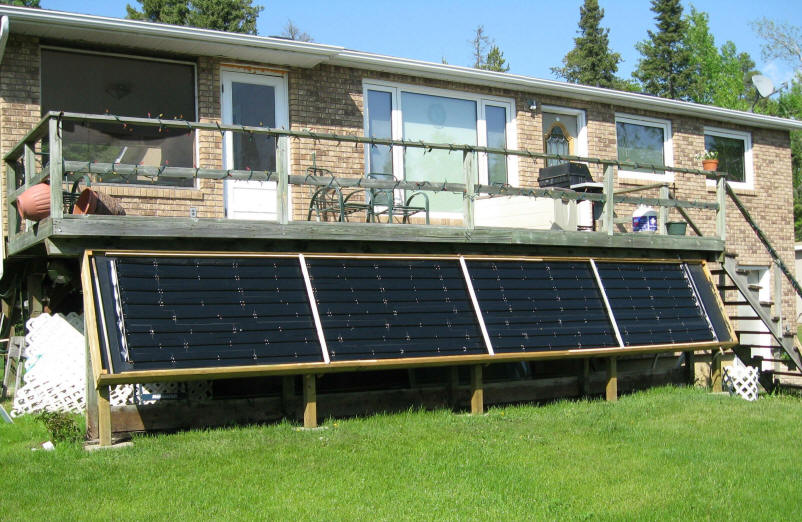 Collector ready for glazing.
Glazing
The glazing is single pane tempered glass. It was installed by creating a wooden lip inside the entire perimeter of the frame into which the glass is set. Once set in place the edges of the glass were covered with regular 90 degree aluminum roofing drip edge and the seal was finished with a bead of silicone.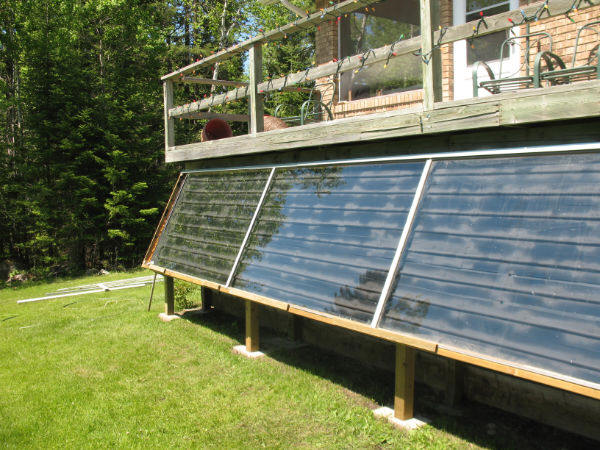 Plumbing
After installing the circulating pump, pressure relief valve pressure tank and connecting piping we charged the system with water and checked for leaks. We were fortunate that all went well with this stage and after purging the air from the system we were ready to start collecting heat. and completed the installation of the tempered glass.

The pump that circulates water to the
collector. A U-Tube is used to avoid
a penetration of the tank wall.

More of the collector plumbing along
with the expansion tank that allows fluid
in a closed loop system to expand.

Plumbing connections to the heat storage tank.
The well water tank is part of the existing
well plumbing system.

Differential controller in plastic bottle case.
The controller is from JC-Solarhomes...

The plumbing is comprised of 3/4" copper between the house and the panel, 3/4" copper manifolds and 1/2" "hizer" pipes. Once inside the basement the plumbing is reduced to 5/8" PEX-AL-PEX for the feed to and from the heat storage vault and for the 8 heat exchangers (2 in each of the 4 barrels).

The well water is preheated by passing through the upper pex heat exchange coils in each of the barrels before it enters the fuel oil heated Domestic Hot Water Tank.
Cost
Here is the detailed cost estimate from Dave:
Description
Unit Size
Quantity
Price/unit
Projection
ActualCost
Comments
1/2" Copper
12 ft
16

$

20.00

$

320.00
$215.00
16 12' can tire($20 coupon)
3/4" Copper
6ft
7

$

30.00

$

210.00
$120.00
solar panel to inside house (7)
Heat Spreader Plates
2 ft X 6"
100

$

2.25

$

225.00
$182.93
black soffit (winnipeg)
Antifreeze
$61.00
4" X 4" Treated
8 ft
4

$

20.00

$

80.00
$27.00
2" X 4" Treated
10t
5

$

10.00

$

50.00
$35.00
panel supports
Glass
4 ft X 6 ft
3

$

-

$

-

in stock
Circulating Pump
1

$

-

$

100.00
$165.43
misc teated wood
$95.00
solar frame
Barrels
45 Gallons
4

$

-

$

-

free
Barrels
30 Gallons
4

$

-

$

-

free
Copper T's 3/4" X 3/4" X1/2"
1
16

$

1.00

$

16.00
$13.98
Winnipeg
Copper Couplers
1
8

$

1.00

$

8.00
$45.00
12 couplers(Winnipeg) 7 couplers (wolsely
Pex Coil
300 ft
1

$

300.00

$

300.00
$300.00
Paint
1 Gallon
1

$

15.00

$

15.00
$70.00
metal black panel/outside paint
Differential Temp Controller
1

$

75.00

$

75.00
$85.00
fom J Canivan
2" X 4" untreated
8 ft
14

$

2.30

$

32.20
$15.05
7 boards

for Heat Storage Vault
spray foam
$45.00
taps/valves
$25.45
Pressure relief valve
$15.55
winnipeg
Pressure Tank
1

$

50.00

$

50.00
in stock
Insulation R12
1
$22.59
for box in basement
Insulation foam
3
$33.87
for Heat Storage Vault
2"x4"x 10'
2
$4.58
for Heat Storage Vault
4x8 plywood
1
$39.00
for Heat Storage Vault
hardboard 4x8
3
$30.00
1 sheet

for box in basement
misc
$140.00
nails,screws,blades solder
3/4 ballcock valve
3
$16.00
revamping pressure tank connections
3/4 tee copper
3
$10.00
revamping pressure tank connections
3/4x12'
1
$30.00
revamping pressure tank connections
3/4/90 copper
$8.00
revamping pressure tank connections
5/8 connectors
$70.00
parts plus shipping
cauking
$30.00
Total

$

1,431.20
$1,950.43
Bob reminds us that "Canadian prices suck" :)
Performance
Using a regular inexpensive meat thermometer temperatures attained in the 200 gallon Heat Storage Vault have been as high as 150 deg F. At the time of this picture the temperature shown (bottom right hand number) was 144 F.
Overall I am quite pleased with the appearance and performance of the system as Dave has reported that he is quite regularly getting temperatures in his 200 gallon storage vault in the 130 deg + range. The performance will only get better as the sun angle gets more direct. We built the panel with a tilt of 65 deg as we are located in central Canada at a latitude of about 49 deg.

Other
Thanks to all those who contributed ideas materials and support during the build of this fun project, Dave Rimstead, Brian Prouty, Gary Reysa and Scott Davis.
Bob July 15, 2011
Comments
Please feel free to enter any questions or comments you have on the system below.
blog comments powered by