Rob's Solar Hot Water Project With Space Heating and Cooling
Rob's system provides solar water heating and some solar space heating. The system has a number of unique features, including the first ever use of the hizer collector design for a drain back system, and a water to air heat exchanger for space heating.

Rob did a very careful job of designing and building the system -- there are many well executed details to learn from in his system. The pdf includes very detailed construction notes with 70 pictures. There is also a very detailed cost accounting.

A follow-on phase of the project will include well water based space cooling via the same heat exchanger used for solar heating in the winter.

Thanks very much to Rob for taking the time to document this project so carefully!

All The Details
All of the details on the system in a 42 page pdf file...
Some Highlights
The system is the first application that I know of the hizer collector in a drain back system. In a hizer collector, the finned "riser" tubes that pick up the solar heat run horizontally instead of vertically. This concept was invented by Alan Rushforth, who proposed it as a better way to handle large collectors in which the long dimension is horizontal rather than vertical. For wide collectors, the hizer results in fewer (but longer) "risers", and in shorter supply and return manifolds with fewer fittings. Alan feels (and I agree) that it will be easier with a hizer collector to get an even flow distribution to all the risers, and that the problems that sometimes occur with getting multiple parallel collectors to all fill and flow properly will be avoided.
| | | |
| --- | --- | --- |
| Collector frame and the hizer grid. | Collector support structure from treated lumber. | Dry fitting the vertical manifolds for the hizer collector. |
| Solar heat storage tank framework. | Folding the single piece liner to fit in the tank. | Using "J" hooks to control the plumbing slope. |
Rob has taken the time to work out the details carefully for the whole job. There is a lot to learn just by going through the project and looking at how he handled all the details you have to deal with on building collectors, tanks, and laying out the plumbing.
In a follow on phase planned for next summer, Rob plans to use the same water to air heat exchanger that is used in the winter to transfer stored solar heat to the furnace ducting, he plans to pump cold well water through the HX for cooling.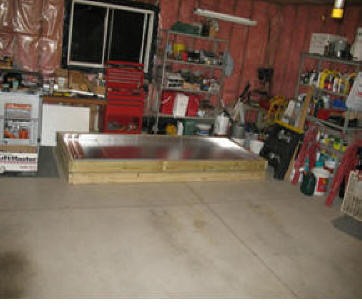 '
Most amazing of all (at least to me) is that Rob managed
to keep a clean shop through the whole project!
Comments
If you have any questions, comments, suggestions ...

blog comments powered by



NOTE

: I made a change to this page that lost the live version of the earlier comments.
A static copy of the earlier comments is pasted in below.
Enter any new comments/answers in the comment box above.
Sorry about that -- Gary


Showing
10

comments

Gary October 31, 2011