Solar Heating and Lighting For Your Garage Shop/Playroom/Sunspace
Featured In the Feb 2007 issue of Home Power Magazine

An article describing this inexpensive and very efficient solar heater for a shop, studio, or playroom. This project provides an great combination of solar heating and daylighting -- it makes for a space that is a delight to be in. My all-time favorite solar project.


The article explains why this $4 per sqft collector can do as well as well or better than commercial collectors costing $30 per sqft, and provides full construction details. It also describes a new version that can be built with only basic tools.

Download the Home Power article (pdf)
Thanks to Home Power for making this available!
Visit the Home Power website

Additional downloads for this project
Additional Details (pdf)
(not as well written or illustrated as the HP article, but has a couple ideas not covered in the HP article)

How does it do at -20F?
(describes how the heater does in very cold but clear weather)
---
Workshop or Studio Sunspace
This is an inexpensive and simple project to convert a garage that has a south facing overhead garage door into a solar heated and lighted workshop, studio, playroom or sunspace/greenhouse.
Itís hard to overstate how much more pleasant this makes the shop to work in -- on sunny days its toasty warm and very well lighted. I think it would also work well as a studio, kidís playroom, a place to grow a few plants, or maybe just a place to sit and read the newspaper.
I really like the way the existing garage door is used as movable insulation to reduce night heat loss. The combination of the new outer glazed doors, the existing overhead garage door, and the simple shade cloth sliding screen make a simple but very effective way to control the shop environment, harvest some free solar heat, and reduce green house gas emissions.
These simple collector doors at $4 per square foot do as good a job of solar heating as commercial solar collectors costing $30 per square foot Ė and, they give you the added bonus of good lighting and a view!
Of all the solar projects I've completed, this one has been the most satisfying in its simplicity and usefulness.
<![if !vml]>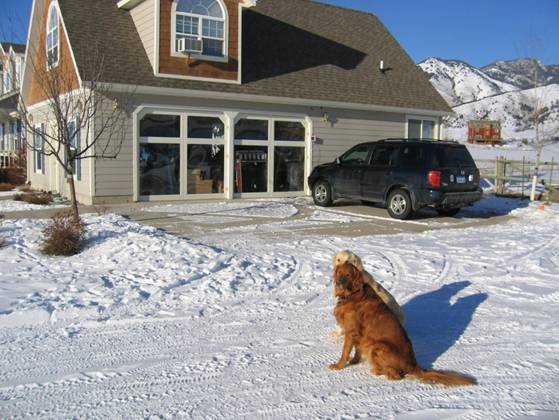 <![endif]>
---
Variation That Uses Commercial Outside Door Systems
Another variation on the door design from Ed that makes use of commercially available outside door systems -- some of which look very slick. Details ...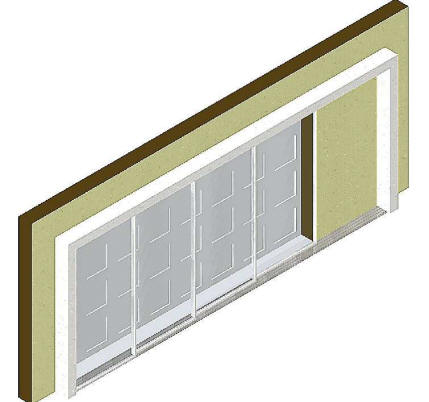 Gary 9/21/06