The Solar Heating Patents of Dr. Harry Thomason
Below is a collection of solar heating and cooling patents by Dr. Harry Thomason. Dr. Thomason is known for the invention of the solar water heating trickle collector. He built a number of solar homes and commercial buildings that used the trickle collector.

Below the patents are some additional materials on the Thomason collectors and homes.

All of this material was made available by solar engineer Nick Pine -- thank you Nick!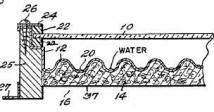 5,103,802 04/14/92 Thermosyphon heat-storage and backup heat apparatus [two-tank stratification]
4,852,547 08/01/89 Heat storage [high and low-temp tanks]
4,369,764 01/25/83 Solar heat storage system [evaporative makeup]
4,343,293 08/10/82 Solar domestic water heater [double tank heat exchanger]
4,284,059 08/18/81 Heat storage and heat exchanger [latent heat exchange improvement]
4,265,219 05/05/81 Solar heating (cooling) system [no backup, vary absorption by season, and improve trough]
4,158,358 06/19/79 Heat and cold storage apparatus [add humidification]
4,146,011 03/27/79 Solar energy [drop outlet nipple]
4,139,055 02/13/79 Solar heating (cooling) [plurality of containers]
4,134,544 01/16/79 Solar heating system [distribute heat with radiators]
4,132,220 01/02/79 Solar energy collector [caulk alone supports glazing]
4,102,327 07/25/78 Solar heating (cooling) system [see '219]
4,082,143 04/04/78 Solar energy [see '219]
4,048,812 09/20/77 Solar-energy conserving [AC & daylight --> lights off]
4,029,082 06/14/77 Heat and cold storage apparatus [see '059]
3,989,031 11/02/76 Solar heat collector [improved trough forming]
3,983,929 10/05/76 Heat and cold and dry storage [zone heating and AC]
3,980,130 09/14/76 Heat, cold and dry storage [a storage bin.]
3,910,253 10/07/75 Flat roof solar heated building [roofpond system]
3,812,903 05/28/74 Heat, cold and dry storage
3,369,541 02/20/68 Heat storage [box versus tank]
3,295,591 01/03/67 Apparatus for cooling and solar heating a house
3,270,739 09/06/66 Solar heater [steep, with reflector to south]
3,254,702 06/07/66 Heat (or cold) storage apparatus [basic Solaris patent]
3,254,703 06/07/66 Solar heated home
3,236,294 02/22/66 Basement less solar home
3,215,134 11/01/65 Solar heat collector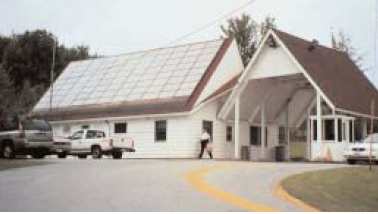 Solar Heat in Snow Country, Solar Today, Nick Pine
An article describing the the Thomason collector at the Richford Customs House in Vermont.
This collector has been providing 2/3rds of the heat for the Customs House since 1984. Nick describes the installation, and how it has fared since 1984.
Evaluation of Thomason Collector by William Shurcliff from the book "Low-Cost Solar Heating -- 100 Daring Schemes Tried and Untried" by William Shurcliff.
Gary 1/22/07