The Elec-Trak Garden Tractor/Mower
The following article by Mark describes the very interesting and functional electric tractor and mower series that was offered by GE for a number of years. Thanks very much to Mark for providing this!
---
Imagine mowing a two-acre yard and not having to add a drop of fuel or check the oil before you start or after you are done. Imagine as you back the tractor out of the garage there is no loud combustion noise from the motor or smelly exhaust. Then imagine after mowing the lawn you drive the tractor back into the garage, plug a cord into an outlet, set a timer, and walk away. This is all possible with a, not so widely known about, battery powered tractor built by General Electric (G.E). This tractor requires no gasoline, oil changes, air filters, or spark plugs. And it costs about 40 cents to operate for an hour and a half. Now that I have your interests peaked ...... G.E. stopped building this product around thirty years ago.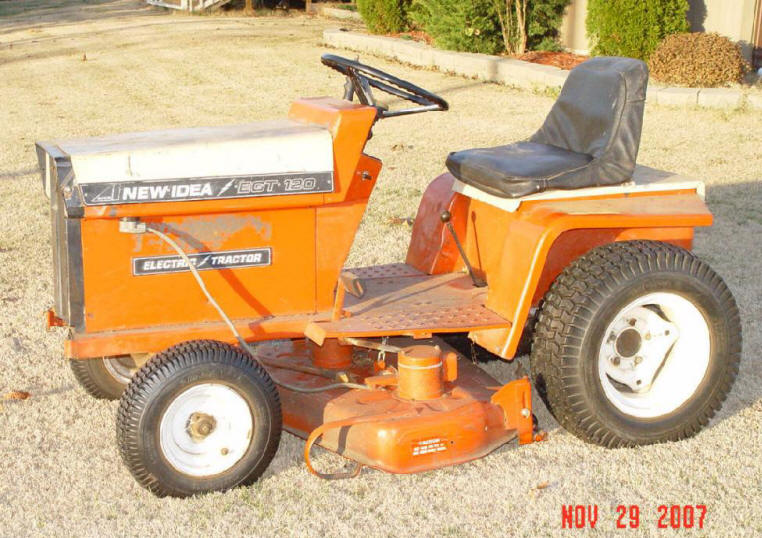 Avco New Idea EGT-20. Produced in 1973 & 1974. Traction motor peak torque exceeds 12 hp.
Three gear ranges, three speed ranges (9 forward speeds).
42 inch mid-mount with three 3/4 hp direct drive blades. Weight 795 lbs.
Some three years ago, I was reading though one of my newly acquired back-issues of HomePower, when I turned to an article about the G.E. battery powered lawn tractors. Like most people, I never had heard about them. I was so intrigued that I ran and showed it to my wife. I was hooked and started searching the internet right away for any information I could find. I was surprised to learn a few other companies had sold electric riding lawnmowers as well.
The majority of the electric lawn tractors were built by General Electric (G.E.) in the 70's. G.E. marketed them as the Elec-Trak. It is believed G.E. first intended to build mowers to be used at golf courses and then moved into production for homeowners. In addition to the Elec-Trak brand, the same basic design and components were used by AVCO New Idea and Wheel Horse who then painted, assembled, and marketed them under the New Idea and Wheel Horse brands. Sometime in the 70's, G.E. sold out to Wheel Horse who continued to build and sell them under the Wheel Horse brand until 1983. Other manufacturers built battery riders but never developed them to the extent as G.E. John Deere sold two small frame battery riders (the 90 and the 95). Cub Cadet sold one version of a small rider (the 95). Sears and J.C. Penny's each had a model.

G.E. sold an impressive line of machines with the drive motors' peak torque ranges exceeding 8 to 16 hp. Each tractor (large frame) and rider (small frame) had a traction motor and separate motors for each mower-deck blade. All of the battery powered tractors and riders, that I am aware of, were 36 volt dc. The large frame and few of the small frame models used six 6-volt deep cycle batteries. Most of the small riders, sold by the various manufacturers, used three 12-volt heavy duty batteries.
There were many attachments for the large frame models including a front-mount mower deck, 3-gang reel mower, roto-tiller, snow thrower, cart, lawn sweeper, push blade, sickle-mower, forklift, and front-end loader. They also had a hedge trimmer, drill, edger, cultivator, welder, and a 36 volt dc to 110 inverter that plugged directly into the tractor. Many other accessories were available like a radio, snow cab, golf club bag holder, horn, ect.
Click on pictures to enlarge

General Electric E12-M Elec-Trak.


General Electric E12 Elec-Trak w/42" front mount deck.


General Electric E10m Elec-Trak (small frame). 36" deck.
Battery pack is 6 6-volt deep cycle batteries.


Avco New Idea R-36. Produced in 1975. 36" deck.
Battery pack is 3 12-volt H.D. batteries.
The drives on the large frame models were belt driven Peerless transaxles that did not have a mechanical reverse. Reverse was by reversing the current by means of a switch which changed the direction of the motor rotation. The small frame models had belt/clutch mechanisms and mechanical reverses. Each deck blade, having its own motor, was direct drive. The largest G.E. model weighs 900 lbs with batteries and has a maximum speed of 9 mph.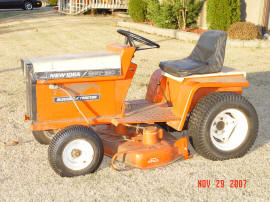 Avco New Idea EGT-120 again.
I have and am currently using two different models. My main mower is a mid-mount New Idea. It has a 42" deck and will mow my two-acre yard using about a 25% of the battery storage capacity. The other, a G.E., has an electric tiller attachment mounted on the rear and a push blade mounted on the front as a counter weight for the tiller and to push snow off of the driveway. Its not much to look at but is a real work horse.

General Electric E20 Elec-Trak.
Traction motor peak torque exceeds 16hp.
Four gear ranges, eight speed ranges (32 forward speeds).


Electric tiller attachment.
Raises and lowers with an electric lift.
It does take some effort or luck to locate one. About a dozen or so a year can be found on ebay. The prices generally range between $250 - $1,250. Finding one nearby is the trick unless you are willing to pay a shipping company or can make a trip in order to retrieve it. They seem to be concentrated in the northeast (Iowa, Illinois, Michigan) although sparsely located other places. I have heard of several people who were able to locate a brand new machine at former dealers who had left over stock they were unable to sell. It is generally thought that about 33,000 units where built. G.E. has no remaining records on the Elect-Trak.
Production stopped almost thirty years ago, so many of the mowers if they are still around have been left out by a fence-row or way back in a shed. Often times the owners did not want to invest in a new battery pack and abandoned its use. If the old batteries were not removed, they would freeze and pour acid out to eat away at the metal sides of the battery boxes. So, corrosion around the base of the rear & front battery compartments is not uncommon. Mice will usually have found a home in with the wiring and components. Most of the machines can be repaired and brought back into service with some effort if they were stored under cover. The machines which have been left outside for 20 years are usually too far gone to make repairing them feasible. They can become valuable part donors as many of the components are interchangeable.
Click on pictures to enlarge
I found my first Elec-Trak by visiting all the local mower repair shops. Most had never heard of, much less seen, a battery powered riding mower. One was finally located after talking to mechanic that had seen one in a nearby town. He remembered the owner's name. I tracked the person down but he had sold his years before. He gave me another name of someone in a different town. I found that person and purchased it after bugging him for about two months. I have since bought mowers form Ohio, Iowa, and Georgia.
These machines have proven themselves to be robust and durable. Some owners have stripped their mowers down and then restored them. Some upgrade to modern electronics. Most folks just use them in pretty much the condition they were found. Some new old stock parts are still available. A potential owner should have at least a basic understanding of electric concepts, be able to use a volt meter, spend some time researching the proper care and maintenance of batteries, have some mechanical ability, and a spouse who is tolerant of the time and money invested. With proper care, new motor brushes and bearings, and an occasional patch job, the mower should still be running in another thirty years. The engineers at G.E. did good.
If one wishes to do so, these mowers can be recharged using sustainable resources. A number of people are recharging their battery packs using solar panels. I have several wind turbines I hope to use at some point for recharging. Even if the batteries are recharged from the power grid, the operation of the battery mower is far less polluting overall than their internal combustion counterpart. I know of two different people in two different states that are starting limited lawn services based on zero carbon emissions. The battery pack is also a good backup power supply in case of a power loss. You can easily attach an inverter and convert the DC current to AC in an emergency. We were without power for six days last winter because of an ice storm. A small inverter and the battery pack ended up being more reliable than the gas generator.
There is a web based owner's club that is a repository of the tech manuals, sales literature, and forums for people looking for assistance in fixing, repairing, buying, & selling. The members are a great community of folks who are willing to share their knowledge and experience with anyone who asks. This technical support is a great resource as G.E. no longer provides it. You do not have to be an owner to join. Visitors have limited access. The web address is
www.elec-trak.com
.
I have enjoyed using these mowers and have not had to buy any gas to mow for two years now. It is truly a unique experience working with these machines. I found them to be very capable of doing the job. In fact, I sold my gas tractor shortly after locating my first Elec-Trak. I often mow late into the evening when it is cool without disturbing the neighbors. I used the tiller attachment for the first time this fall. It did such a great job I will try and sell my gas tiller in the spring. The battery packs will last between 5 to 10 years depending on the quality of the battery, the number of and depth of discharges, and how well they are maintained. Considering the cost of petroleum is expected to continue to rise and with the increasing concerns about global warming, the overall cost of acquiring, repairing and running the machines makes them a good investment.
Mark Frerking
Mark is happy to answer email questions at: mfrerking AT classicnet DOT net (replace AT with @ and DOT with a period)
Dec 9, 2007