Jo describes in detail the design and building of a large thermosyphon solar water heating system for a hospital in Pakistan. A fascinating story about taking on a big project in unfamiliar surroundings.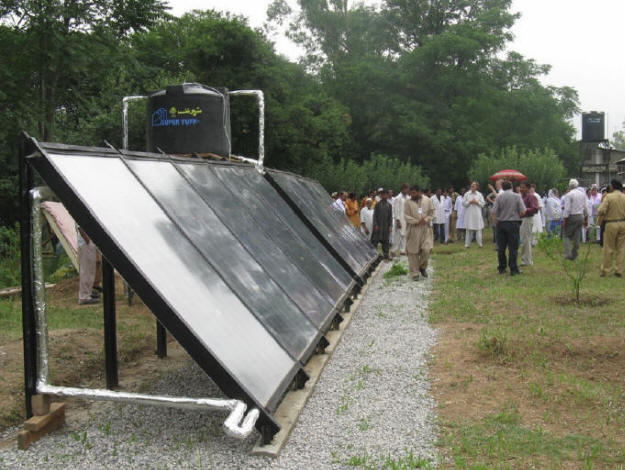 The system provides 224 sqft of collector in two banks. Each collector bank thermosyphons the solar heated water to a storage tank located above and between the collector banks. Heat is transferred from the thermosyphon storage to to the hospital using a heat exchanger in the tank.
The entire system, including the collectors, was built with local materials and local labor. Some of the materials we take for granted at the local Home Depot are not so easy to find where this system was built and one of the challenges was finding good local substitutes.
In addition to describing in detail how the system was designed and built, Jo describes the Arduino based temperature logger that tracks and logs temperatures a many key points on the system.
Here are the full details from Jo on the system... (pdf)
This is Jo's very interesting blog on the system and life in this area of Pakistan... Be sure to have a look at some of the weekend road trips through the mountains -- the whole blog makes a very interesting read.
Thanks very much to Jo for sending this in!