David's DIY Drainback Solar Water Heating System
David has designed and built a very nice solar water heating system for his efficient home. It is a drainback system that uses an EPDM lined, non-pressurized wood tank for heat storage.

Some of the highlights of Dave's system...

Tank design suitable for limited height crawlspaces.


Nice tank frame design using half lap joints for the corners


Used new old-stock commercial collectors at a very good price


Efficient heat exchanger installation


Using used and recycled materials kept the cost of the system down


Dave and his three recycled DHW collectors

David provides a pdf with a complete description of the system. Links to the pdf and to Dave's many helpful videos provided below.
Quick Overview
David's system consists of three collectors mounted vertically on the south wall of his house. The heat storage tank for the system is in the crawl space under the collectors. Its a drainback system, so for freeze protection, the water in the collectors drains back to the heat storage tank when the pump turns off.
The collectors were obtained on Craig's list as "new old-stock" for a very good price.
The heat storage tank is a non-presurized, wood framed, insulated with polyiso rigid foam, and then lined with an EPDM liner - this is a design that has been used on quite a few Build It Solar projects, and works well.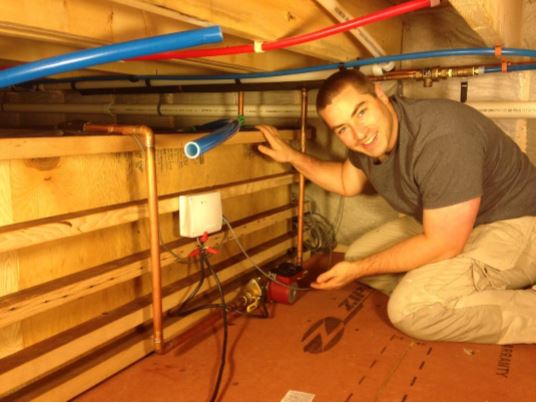 Dave's crawl space is only about 29 inches tall, so getting the tank in was a challenge, but it shows what can be done even in a pretty shallow crawlspace. The wood frame corner joints are done with half laps, which should be very strong.
The heat exchanger uses a 300 ft coil of pex pipe that has been used successfully on several Build-It-Solar projects. The scheme that Dave used to support the pipe coil and space the coils out is very nicely done and likely provides a worthwhile gain in heat transfer efficiency. One nice thing about this style of heat exchanger is that it stores several gallons of fully preheated water right in the coil.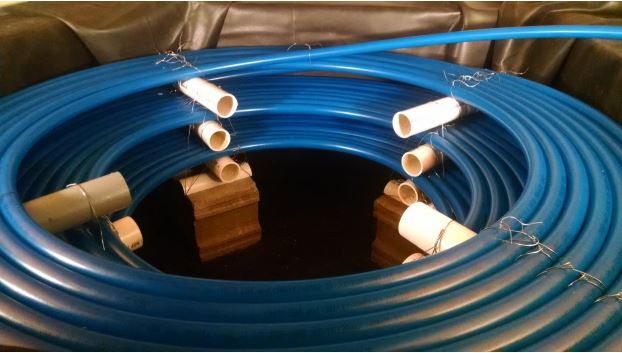 I think that Dave's collectors provide enough area that they could be used for some space heating as well as the domestic water heating should he choose to do so.
All the Details
For all of the details on the design and build of the solar heating system download this pdf...
Dave's website with many interesting videos covering the energy efficient house he built and other solar/energy projects...
David's YouTube channel with many helpful videos...
For more ideas on this type of drainback system have a look at...
Comments/Questions
blog comments powered by